Introduction:
AlgoDelta Copy Trading operates on a transparent and user-friendly platform that caters to both beginners and experienced traders. It offers a range of features that facilitate seamless interaction between traders, providing valuable insights, sharing trading strategies, and fostering a community-driven approach to investing.
Follow below steps to Sign Up into Copy Trading.
Step 1: Redirect to Algodelta's Copy Trading
Click on below link to open Copy Trading Account.
https://copytrading.algodelta.com/registration.php
Step 2: Enter Details For Registration
After opening copy trading sign up page enter your details and verify you are not robot. then Click on Registration.
Please wait for sometime You will get Password on your email Id.
Step 3: Check Email For Password
Check your Email you will receive password on your email id.
Step 4: Redirect to Login Page
Click on below link to login in Copy Trading.
https://copytrading.algodelta.com
Step 5: Login Into Copy Trading
Enter email id and password you received on email. Verify you are not robot and click on Log In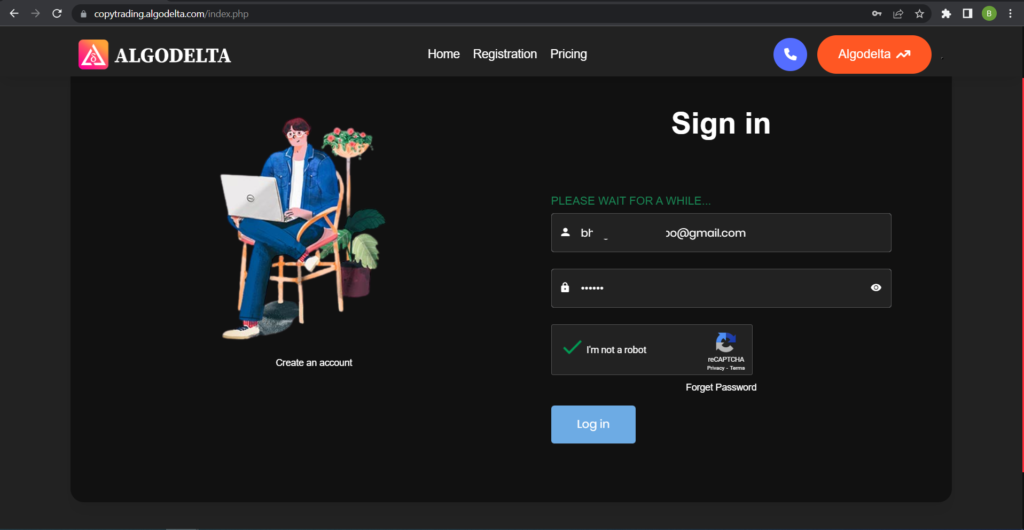 Step 6: Fund Your Account
Navigate to the wallet page using the navigation menu. Follow the instructions provided on the wallet page to complete the deposit process. The platform will guide you through the necessary steps to make a deposit. Carefully follow the instructions provided to ensure a successful deposit. By depositing funds into your account, You can do Copy Trading With AlgoDelta.
Conclusion:
Congratulations! You are now ready to explore the exciting world of AlgoDelta Copy Trading and potentially enhance your trading success. Remember to stay updated with the latest market trends, manage your risk wisely, and continually learn from the experiences of successful traders.